The Never-ending Battle
Season Getter Robo Arc, Episode 13
Air date
September 16, 2021
Episode guide
Previous


Overlapping Time

Next
N/A
The Never-ending Battle is the 13th and final episode of the Getter Robo Arc Anime.
Synopsis
[
]
TBA
Plot
[
]
TBA
Characters appearing
[
]
Mechanics
[
]
Abilities used
[
]
Getter Arc:

Getter Beam
Thunder Bomber
Arc Shine Bomber

Getter Kirik:
Getter Khan:
Quotes
[
]
Takuma: "The past and the future can eat shit! Our future... the only future that matters..."
All three pilots: "Is the one we make for ourselves!"
Takuma: "CHANGE: GETTER...ARC!!!"
―The trio's determination before facing Getter One.
Notes & Trivia
[
]
Continuity Notes
[
]
When they found out the location where Kamui is imprisoned, Takuma and Baku rephrased their lines from the first episode.
Callbacks to previous Getter Robo series

[

]
Hayato utilizes the "Eyes, Ears, and Nose" attack on the Gettersaurus pilots.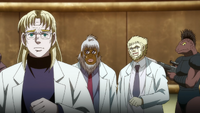 Changes from the original manga

[

]
New additions:

Hayato facing against the Gettersaurus pilots.
The first deployment of Bug.
The human scientists' execution ordered by Kamui.
Humanity's retreat from Earth to Mars.
An extended battle between the Bug and Getter Arc.
Hayato releasing the Getter Saint Dragon.
The original, Anime-only ending that consists of Takuma and Baku breaking Kamui out of prison, and facing Getter One.
The Getter (Saint) Dragon is drastically different from the one depicted in the manga.