Welcome to the Getter Robo Wiki!
The Getter Robo Wiki is an online library of information on Ken Ishikawa's Getter Robo with articles on the various manga and anime series, as well as the famous mechas and characters.
Embrace Evolution
[
]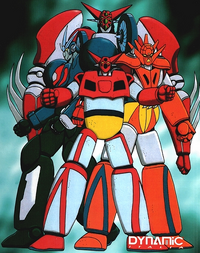 Getter Robo started off as a manga written by Ken Ishikawa, with influence from Go Nagai, in 1974. Since then, there have been many manga, anime, compilation books, and story about the Getter Team and their adventures. This in turn inspired other franchises, bringing out more development with creators and characters.
Other Dynamic Pro. Wikis
[
]
Latest activity
[
]